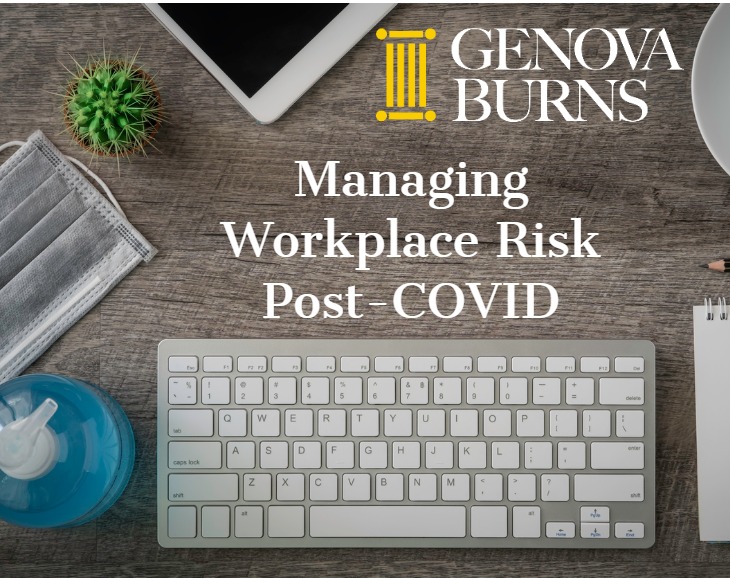 Genova Burns' attorneys Dina M. Mastellone, Douglas E. Solomon, John R. Vreeland, Brigette N. Eagan, Keith A. Krauss, and Young-Ji Park will present a webinar on June 17 for NJCAR entitled, "Managing Workplace Risk Post-COVID." The panel discussion will focus on the latest updated labor and employment issues related to getting back to work in the "new normal" and the COVID-19 pandemic's impact on your business. Topics to be covered include:
Update on the Paycheck Protection Program Flexibility Act & Small Business Grants
The Legal Duty Ensuring A "Safe" Workplace: The Latest from the State of New Jersey, OSHA and CDC
Update on the DOL and Wage/Hour Issues
Update on EEOC Return to Work Guidance & Health Information, Medical Inquiries & Employee Privacy
What Plaintiff Lawyers Are Thinking: Avoiding Whistleblower, Discrimination & Retaliation Claims
To register for this informative webinar, please click here.
Tags: Genova Burns LLC • Dina M. Mastellone • John Vreeland • Keith A. Krauss • Brigette N. Eagan • Young-Ji Park • Douglas Solomon • NJCAR • Employment Law & Litigation • Human Resources Counseling & Compliance • Labor Law • OSHA