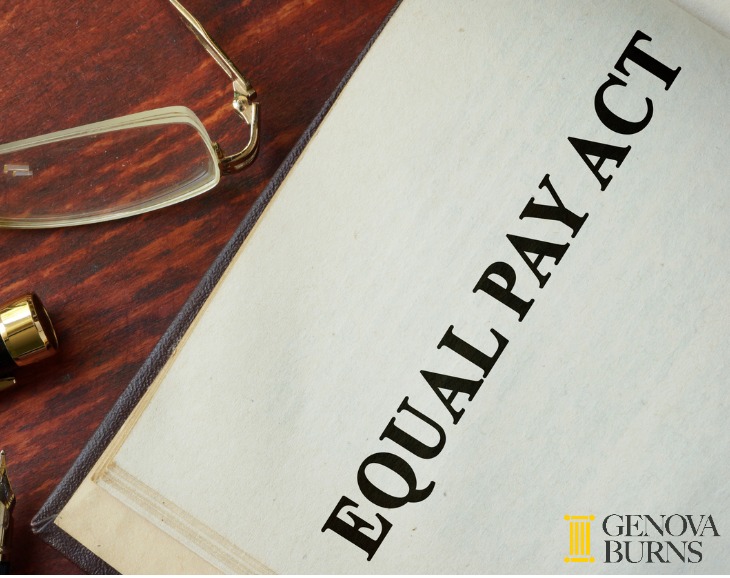 On March 2, 2020, the New Jersey Division on Civil Rights (DCR) issued Guidance on the Diane B. Allen Equal Pay Act (Equal Pay Act) – the New Jersey law requiring employers to offer equal pay to employees performing substantially similar work. The Equal Pay Act's purpose is to prohibit discrimination in pay and benefits based on "race, creed, color, national origin, ancestry, age, marital status, civil union status, domestic partnership status, affectional or sexual orientation, genetic information, pregnancy or breastfeeding, sex, gender identity or expression, disability or atypical hereditary cellular or blood trait, liability for service in the Armed Forces of the United States, nationality" and refusing to "submit to a genetic test or make available the results of a genetic test." These traits are protected categories under the New Jersey Law Against Discrimination (NJLAD).
The EPA left employers with unanswered questions on essential provisions of the statute, including the definition of "substantially similar work." The DCR's recent Guidance helps to fill-in the blanks.
Here are our key take-aways from the Guidance:
Equal Pay Required For Substantially Similar Work
When determining if an employer is offering equal pay for substantially equal work, the positions at issue must "require a similar degree of skill, effort, and responsibility." The Guidance makes clear that the skill, effort, and responsibility of the two jobs must be evaluated together and that "[m]inor differences in skill, effort, and responsibility do not preclude work from being substantially similar." The Guidance also offers the following detail on skill, effort, and responsibility:

Skill involves the education, training, and experience needed to perform the job, and not the different skill sets that employees may possess. Only those skills necessary to perform the job should be considered in the analysis.
Effort involves the physical and/or mental effort needed to accomplish the job duties.
Responsibility involves job duties, as well as the level of "discretion and accountability" for the positions at issue. Minor differences in responsibility should not be considered.

Job titles are not relevant when determining if employees are performing substantially similar work. The Guidance gives the following example:
"In a school setting, janitorial and food service jobs may be substantially similar in terms of skill, effort and responsibility because both may involve substantial amounts of lifting and cleaning, even though the job duties are not exactly the same."
Exceptions To Equal Pay For Substantially Similar Work
An employer may pay different compensation for two positions that involve substantially similar work if the employer can establish that the pay difference is based on a seniority or merit system. Seniority systems provide compensation based on time worked with the employer and merit systems provide compensation based on meeting certain job criteria.
An employer may also pay different compensation for substantially similar work when: 1) the pay difference is based on legitimate factors other than the employee's protected trait (like "training, education or experience, or the quantity or quality of production"); 2) these legitimate factors do not allow for the continuation of pay differences based upon an employee's protected trait; 3) the employer acted reasonably when considering these legitimate factors; 4) these legitimate factors are the reason for the pay difference; and 5) these factors are related to the job and are necessary, and alternate business practices are unavailable. An employer must establish all five of these factors to justify a pay differential.
An employer cannot rely upon salary history to explain a pay differential under the EPA if a wage gap exists and salary history would perpetuate the gap.
Coverage
All New Jersey employers, including the State, counties, and municipalities, must comply with the EPA, regardless of employer size.
Non-New Jersey employers must comply with the EPA, if at least one employee's primary place of work is New Jersey.
If an out of state employee works in New Jersey "several days a week," that employee is covered under the EPA.
The Employee's Proofs And Employer's Defenses
An employer may be found to have violated the EPA, despite the lack of any intent by the employer to discriminate in pay.
An employee can establish an employer's failure to offer equal pay for substantially equal work by relying upon compensation paid to employees performing work outside of New Jersey. An employer may, however, raise as a defense that the pay difference is based upon cost-of-living or market demands for the position. The employer would have to show that these cost of living and/or market demand factors "do not perpetuate, a differential in compensation based on sex or any other protected characteristic."
Employers cannot prohibit employees from discussing their compensation, race, national origin, ethnicity, or job title with one another.
Violations Of The EPA
If an employer fails to compensate employees equally for substantially similar work, every paycheck issued by the employer is a separate violation of the EPA.
An employee must file an EPA complaint with the DCR (the administrative agency responsible for compliance with the EPA) within 180 days of receipt of the employee's last pay check claimed to be discriminatory, or two years from receipt of the disputed pay check if the employee seeks to file a civil complaint in court.
An employee may recover treble damages for violations (damages three times the amount determined), in addition to lost wages, emotional distress damages, reinstatement, back pay, interest, punitive damages, and attorneys' fees.
The DCR will not consider voluntary salary adjustments made in connection with a voluntary self-audit conducted by an employer as an admission of the employer's liability under the EPA.
Employer Wage Reporting Responsibilities
Employers that contract with the State (not including contracts with counties and municipalities) must report wage and demographic information (race, gender, ethnicity) to the New Jersey Department of Labor, along with hours worked by and job category.
Employer Self-Audits
The Guidance also includes worksheets and instructions for public employers to use when performing a self-audit for EPA compliance. These worksheets also provide helpful guidance to private sector employers.
Bottom Line
In sum, the EPA Guidance provides additional definitions and explanations to employers on equal pay issues. The Guidance makes clear that this seemingly straight-forward law is extremely complicated and unforgiving to employers with pay differentials, even to employers with no intent to discriminate.
Employers must continue to review job descriptions, employee handbooks and policies to ensure compliance. Pay equity audits should be conducted with legal counsel since without the protection of the attorney client privilege to ensure confidentiality, the assessment and resulting adjustments are all readily discoverable in the event of litigation. Human Resources, benefits personnel and managers/supervisors should receive updated training on hiring, conducting performance evaluations and promotion practices to ensure compliance with the new law.
For more information regarding the impacts of the DCR's guidance, complaint on the Diane B. Allen Equal Pay Act and how to implement nondiscriminatory pay practices, please contact Dina M. Mastellone, Esq., Chair of the firm's Human Resources Counseling & Compliance Practice Group, at dmastellone@genovaburns.com or 973.533.0777, or Brigette N. Eagan, Esq., Counsel in the firm's Human Resources Counseling & Compliance Practice Group at beagan@genovaburns.com or 973.533.0777.
Tags: Dina M. Mastellone • Brigette N. Eagan • John C. Petrella • Equal Pay Act • Civil Rights • New Jersey • Employment Law & Litigation • Human Resources Counseling & Compliance • NJLAD • EPA