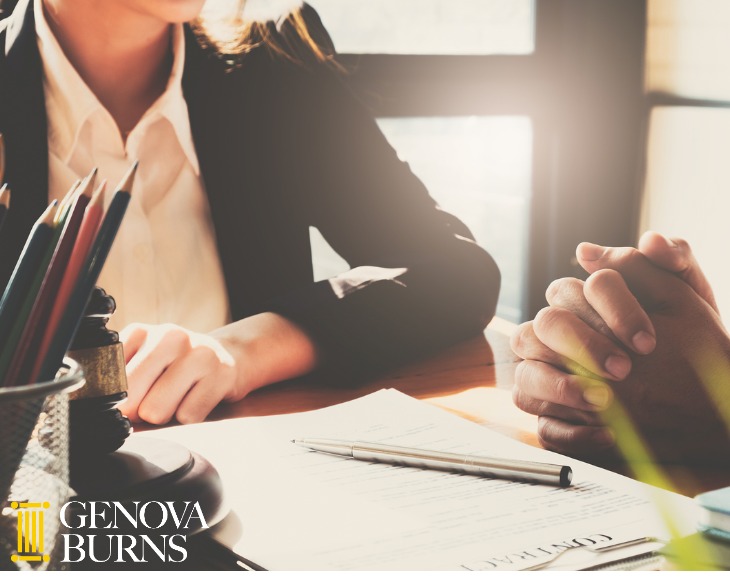 On April 30, 2021, in Hampton v. ADT, LLC, et al., the New Jersey Appellate Division vacated a September 2020 trial court order dismissing a former employee's lawsuit and compelling him to arbitrate his Conscientious Employee Protection Act (CEPA) claims against his former employer's predecessor. In so doing, the Appellate Division held that the trial court must first determine whether the subject Arbitration Agreement was binding on the former Vice President, and if so, whether his former employer was, in fact, the assignee of the agreement.
Facts
Robert Hampton was the Vice President of Business Development at MS Electronics/MSE Corporate Security, Inc. (MSE) beginning on February 16, 2016. Prior to beginning his employment with MSE, Mr. Hampton signed various agreements, including an Arbitration Agreement (the Arbitration Agreement) prepared by MSE. The Arbitration and Equitable Relief clause of the Arbitration Agreement provided:
Except as provided in Section 9(b), I agree that any dispute or controversy arising out of, relating to, or concerning any interpretation, construction, performance, or breach of this agreement, shall be settled by arbitration with a single arbitrator to be held in Edison, New Jersey, in accordance with the Employment Dispute Resolution Rules in effect of the American Arbitration Association (AAA). The company and I shall each pay one-half of the costs and expenses of such arbitration, and each of us will separately pay for our counsel fees and expenses.
The Arbitration Agreement also stated that, by signing, Mr. Hampton was waiving his right to a jury trial regarding the resolution of all disputes relating to all aspects of the employer/employee relationship, including, but not limited to the following three claims:
Any and all claims for wrongful discharge of employment; breach of contract, both express and implied; breach of covenant of good faith and fair dealing both express and implied.
Any and all claims for violation of any Federal, State or Municipal statute; and
Any and all claims arising out of any other laws and regulations relating to employment or employment discrimination.
The Arbitration Agreement also included a "Successor and Assigns" provision which makes the agreement "binding upon [the employee's] heirs, administrators, executors and other legal representatives, … for the benefit of the Company, its successors and assigns. Importantly, though Mr. Hampton acknowledges he signed the Arbitration Agreement, MSE never countersigned, and instead left the signature line blank.
In August 2017, MSE's assets were bought by ADT. As a result, Mr. Hampton became an ADT employee. As an ADT employee, his position remained the same and he was never presented with any new employment contracts.
In August 2019, the Vice President of ADT met with Mr. Hampton to discuss several business accounts. During the meeting, Mr. Hampton essentially "blew the whistle," when he voiced his concern that ADT was not submitting the payroll reports required by the New Jersey Prevailing Wage Act, with respect to a business account. Subsequently, on August 21, 2019, the Vice President informed Mr. Hampton that his employment with ADT was being terminated and that his last day at ADT would be August 23, 2019, which was ultimately extended by one week. According to Mr. Hampton, the Vice President never gave him a reason for terminating him.
In March 2020, in contravention of the Arbitration Agreement, Mr. Hampton filed a lawsuit against ADT alleging ADT violated CEPA by terminating him in retaliation for engaging in protected activities, namely, disclosing, refusing to participate in, and/or objecting to its illegal activities. Mr. Hampton further demanded a jury trial.
Trial Court Decision
In upholding the Arbitration Agreement, the trial court held, among other things, that the Agreement was enforceable despite MSE's missing signature, that Plaintiff knowingly agreed to arbitrate certain claims, that ADT was the assignee of the Arbitration Agreement, and that the "arising out of any other laws" language in the catchall provision of the Arbitration Agreement encompassed Plaintiff's CEPA claim against ADT. Thus, Mr. Hampton's lawsuit was dismissed, and he was compelled to participate in arbitration proceedings instead, in accordance with the Arbitration Agreement.
Appellate Court Decision
On appeal, the Appellate Division held that the trial court should have considered whether the Arbitration Agreement is enforceable, as contract formation issues relating to an agreement to arbitrate are properly resolved by the trial court, not an arbitrator. The Appellate Division further concluded that due to these "unresolved controlling facts," the trial court's dismissal of Plaintiff's complaint was precluded under the law. The Appellate Division further held that the trial court's finding that ADT is the assignee of the Arbitration Agreement was not supported by the "limited record," and additional fact-finding is required to make this determination. Based on these findings, the Appellate Division vacated the trial court's order, and remanded the case back to the trial court to consider these threshold issues.
Bottom Line
The New Jersey Appellate Division has made clear that even where an Arbitration Agreement provides otherwise, it is the trial court's obligation to determine the enforceability of Arbitration Agreements, rather than an arbitrator. To avoid costly litigation, employers should be especially cautious that their Arbitration Agreements clearly convey the intention to be binding upon the parties. It also should go without saying, that an employer should always countersign all its employment agreements, including Arbitration Agreements. As illustrated in Hampton v. ADT, mistakes like these can prove fatal to the enforceability of the agreement.
For more information regarding this decision and best practices for implementing Arbitration Agreements for your workforce, please contact John C. Petrella, Chair of the firm's Employment Law & Litigation Practice Group via email here or Dina M. Mastellone, Chair of the Human Resources, Counseling & Compliance Practice Group via email here or 973-533-0777.
Tags: Genova Burns LLC • Dina M. Mastellone • Latiqua M. Liles • Bashir Herbert • CEPA • Employment Law & Litigation • New Jersey • Arbitration Agreements • New Jersey Prevailing Wage Act