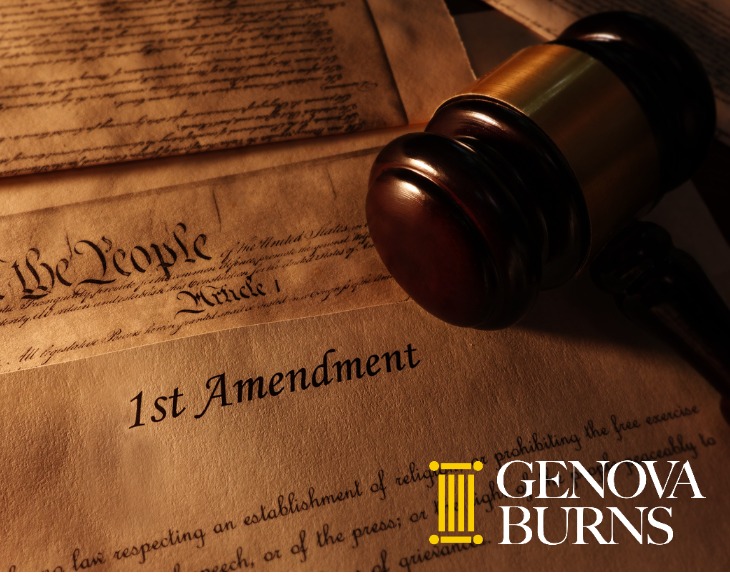 On May 20, 2022, in McVey v AtlantiCare Medical System, the New Jersey Appellate Division Panel affirmed the dismissal of an employee's case holding that her termination was not in violation of the protections afforded to speech. After losing her job for posting racist comments on social media, Plaintiff, Heather J. McVey, learned that freedom of speech, like all rights, is not absolute.
Background
McVey joined AtlantiCare Medical System as a nurse in 2005. Over the next decade and a half, she received various promotions leading up to her final role as Corporate Director of Customer Service. McVey displayed her job title and her employer's name on her private Facebook profile, thereby associating her with AtlantiCare.
AtlantiCare maintained a written Social Media Policy, which cautioned its employees, especially those who identify themselves as AtlantiCare employees on social media, to take "proper consideration of privacy and of topics that may be considered objectionable or inflammatory – such as politics or religion." The policy did not prohibit a substantial portion of speech on social media, rather, employees were asked to "respect your audience and your coworkers."
After the death of George Floyd, McVey responded to an open-ended Facebook post asking: "Do you believe the phrase 'Black Lives Matter' is racist, or does it bother you in any way? If so, why? (Feel free to direct message me, not trying to argue, just seeking to understand)." In reply, McVey wrote: "Yes, I find it racist. Yes, it bothers me. 'Black Lives' matter causes segregation. Have you ever heard of 'white lives' matter or 'jewish' lives matter? No. Equal opportunity." A subsequent post stated that the Black Lives Matter movement brings "attention to the plight of black folks in America. That they're dying. And they'd like support, not at the exclusion of the other groups you mentioned, but simply to include them in the respect and dignity supposedly afforded to everybody in this Country." McVey wrote back: "They are not dying…they are killing themselves."
When AtlantiCare learned of the Facebook posts by McVey, AtlantiCare commenced an investigation and McVey was suspended. The following week, AtlantiCare terminated McVey's employment based on "repeated instances of poor management judgment – a failure to uphold AtlantiCare values."
McVey thereafter filed a complaint alleging that AtlantiCare violated her right to freedom of speech under the First Amendment to the United States Constitution and Article I of the New Jersey Constitution.
Trial Court Proceedings
McVey's case in the trial division was short-lived. AtlantiCare moved to dismiss the Complaint and argued that freedom of speech, whether viewed under the Federal or the New Jersey Constitution, applies to governmental action – not to private actors like AtlantiCare. As such, as a private employer, AtlantiCare did not violate McVey's freedom of speech. The Trial Court agreed and dismissed McVey's Complaint. Hoping for a better result the second time around, McVey appealed the trial court's decision.
Appellate Division Decision
Absent an employment contract guaranteeing employment for a certain period of time, employment is "at-will" and an employer has the right to terminate an employee with or without cause absent discriminator reasons. In this case, the Appellate Division was presented with a novel question, which only further complicates the doctrine of "at-will" employment. Specifically, whether or not an employer violates an employee's right to freedom of speech when terminating an employee for racist posts on social media.
Faced with a challenging task, which borders on that of a political thicket, the Court primarily relied on a procedural analysis. In doing so, the Court found that AtlantiCare is a private employer; therefore, the freedom of speech argument is inapplicable. Nevertheless, the Court conducted a substantive analysis, perhaps to provide some insight should the law develop a cause of action in these circumstances, but concluded that the result would be the same. McVey's speech, whether viewed as racist or simply insensitive, invokes at most, a mere fraction of protection under the law. When balancing AtlantiCare's business interests against McVey's right to "speak her mind," as she characterized it, McVey's right falls woefully short. Accordingly, the Appellate Division upheld the Trial Court's dismissal of McVey's Complaint.
Bottom Line
The pace of technological advances continues to dwarf the evolution of the law which, by design, move incrementally rather than exponentially. Consequently, this case presents a novel issue to the New Jersey Judiciary despite the advent of social media dating back almost a generation. That is to say, this opinion does not end the discussion on this topic. To the contrary, this issue is more accurately in its infancy and will be shaped and defined as further case law develops.
In the interim, there are key take aways to consider. First and foremost, employers must develop a legally complaint Social Media Policy. While it may not protect or absolve an employer from liability, the language contained in AtlantiCare's policy was crucial to the Court's decision. Also important, albeit a more difficult consideration, is to understand that speech does not occur in a vacuum - the context surrounding speech, which shapes how speech is received, is possibly tantamount to language of the speech itself. Certainly, this decision, and in particular the Court's analysis of McVey's speech, is inextricably tied to the climate in which the remarks were made. Thus, context is key.

For more information regarding this decision and best practices to implement effective Social Media and other compliant policies for your workforce, please contact Partners John C. Petrella, Esq. via email here or Dina M. Mastellone, Esq. via email here or 973-533-0777.
Tags: Genova Burns LLC • Jeremy M. Brooks • Dina M. Mastellone • John C. Petrella • Free Speech • Social Media • Human Resources Counseling & Compliance • Employment Law & Litigation • First Amendment