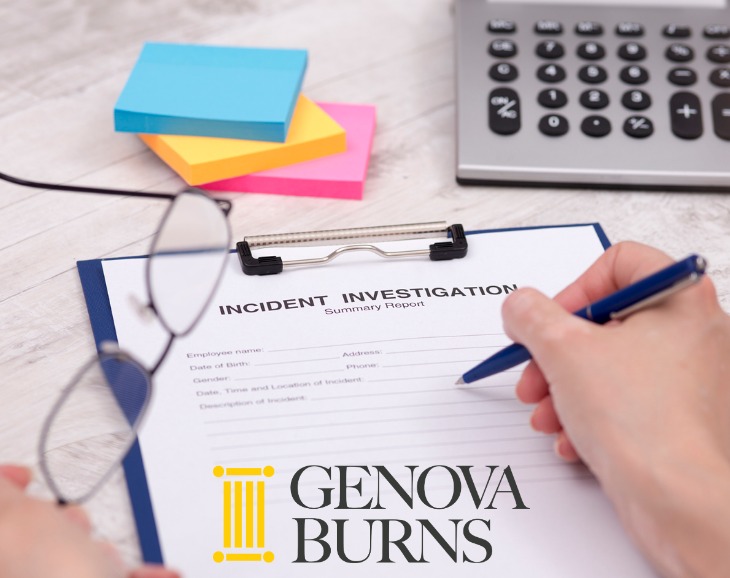 Partner Dina M. Mastellone will participate in a webcast for the New Jersey State Bar Association entitled "Current Workplace Investigations Trends 2020 - COVID, Protests, Social Media and More" on September 22nd.
Ms. Mastellone will join a panel of experienced investigators and management/plaintiff-side attorneys to tackle challenging scenarios, discuss current trends and offer suggestions on conducting effective investigations and developing policies and procedures that will ensure a safe and comfortable workplace and can withstand challenges in subsequent litigation.
About the Program
The current pandemic and climate of the Black Lives Matter and #MeToo movements have had a profound impact on the workplace. This timely seminar will encompass current trends as to investigations and prevention of harassment and discrimination and bias in the workplace. Employers everywhere are increasing training and revising their policies and procedures to create workplaces that are free of harassment, discrimination, and unconscious bias. When allegations arise, attorneys must have answers. The time to worry about an investigation is long before someone files a lawsuit. Are your clients prepared to handle an allegation? Do they have articulated procedures and policies in place? Are their policies and procedures the same for all employees, even when the accused is a high-level leader? Do they conduct assessments of their policies and procedures to ensure investigations are unbiased and conducted with sensitivity?
In the current climate, are employers investigating off-duty employee conduct brought to their attention by employees or third parties? Can employees be disciplined for engaging in conduct on personal social media or while participating in non-work-related protests or activities? Are racial or profane comments protected if they occur while engaged in union activities? When do consensual romantic relationships impact the workplace and result in investigations? How do you manage a remote investigation and assess credibility during virtual interviews? Are the Courts allowing expert testimony regarding harassment and discrimination matters on prevention and remediation?
About the Attorney
Ms. Mastellone, Partner in the Firm's Newark and Tinton Falls, NJ offices, is Chair of the Human Resources Counseling & Compliance Practice Group and a member of the Employment Law & Litigation and Criminal Defense, Investigations & Compliance Practice Groups. She works as a strategic and tactical business partner alongside the firm's regional and national clients, counseling them on employment matters of all kinds and establishing and auditing human resources policies, handbooks and procedures.
Ms. Mastellone has extensive experience training businesses and human resources organizations on matters involving anti-harassment and diversity policy compliance, best human resources practices, hiring, documentation, discipline, termination and managing accommodations and leaves of absence in accordance with local, state and federal employment laws.
Tags: Dina Mastellone • Genova Burns LLC • NJSBA • CLE • Workplace Investigations • COVID-19 • Social Media • Employment Law & Litigation • Human Resources Counseling & Compliance • Black Lives Matter • #MeToo