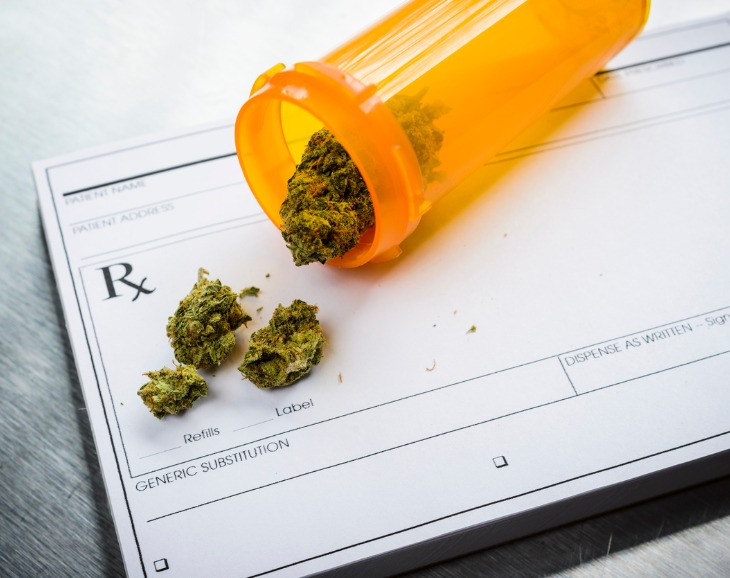 On January 13, 2020, the Appellate Division ruled that medical marijuana may provide a reasonable and necessary form of treatment in workers' compensation cases. In Hager v. M&K Construction, the Appellate Division affirmed a workers' compensation judge's order requiring M&K Construction Company (M&K) to reimburse the cost of medical marijuana prescribed to treat chronic pain stemming from a workplace accident.
Facts
In 2001, Vincent Hager was injured when a delivery truck dumped its load of on concrete on him. The immediate effects of the injury were "shooting and stabbing pain," which led to diagnoses of disc herniation, stenosis and disc bulging. Over the next 15 years, Hager underwent multiple surgeries, physical therapy, and was prescribed various forms of pain management medication therapies, including Oxycontin, Oxycodone, Valium, and Lyrica. Seeking an alternative to opioids for pain management, Hager was finally referred to and accepted to the New Jersey Medical Marijuana program.
During trial before the workers' compensation judge, Hager detailed his suffering, including chronic pain that radiated throughout his legs and lower back. He also testified that his pain impacted his daily activities, including the inability to stand for more than 30 minutes. Moreover, the pain prevented him from working. He explained that while the pain was not fully abated, use of medical marijuana "took the edge off the pain," relaxed muscles when they spasmed, allowed him to stop use of Oxycodone and allowed him to sleep.
The workers' compensation judge ordered his former employer to pay for his medical marijuana and related costs. M&K appealed the ruling, claiming that the workers' compensation judges' order was unenforceable because: 1) compliance with the New Jersey Compassionate Use Medical Marijuana Act and the federal Controlled Substances Act is impossible; 2) compliance with the order requires M&K to "aid and abet" Hager's possession of a controlled substance; 3) M&K should be treated "like a private insurer, which is not required...to cover the costs of medical marijuana; and 4) the judge failed to consider whether medical marijuana is a "reasonable and necessary" treatment for the purposes of workers' compensation law.
Appellate Division's Analysis
In this first case involving New Jersey's medical marijuana law and its intersection with workers' compensation law, the Appellate Division rejected each and every argument made by M&K relating to the appropriateness of medical marijuana as a valid treatment under workers' compensation law.
First, the Court found no "conflict preemption" based on impossibility of following state and federal law. The Court recognized that the federal prohibitions are for the possession, manufacture or distribution of marijuana. However, it reasoned that compliance with federal and state law was not impossible because M&K was required only to pay for medical marijuana acquired by Hager, not acquire the drug itself. The Court similarly rejected the contention that reimbursement after Hager's purchase required M&K to aid and abet a crime. The Court determined M&K "cannot aid and abet a completed crime" and it proffered no evidence to support its claimed concern over prosecution. The Court further rejected M&K's argument that it should be treated as a private health provider and exempt from providing medical marijuana benefits.
Finally, the Court wholly rejected M&K's arguments that medical marijuana was not reasonable and necessary treatment under the workers compensation law. In emphasizing the appropriateness of this treatment, the Court cited Hager's testimony about the extent of his pain; the medical evidence provided to reinforce Hager's need for long term pain management; the medical evidence that opioids were more addictive than medical marijuana and carry a risk of death; the medical evidence that all prior treatments failed; and his cessation of opioid reliance. Ultimately, the Court concluded that depriving Hager of "the only relief from the constant pain he has experienced for almost twenty years would eviscerate the principles and goals" of the workers compensation laws and the New Jersey Compassionate Use Medical Marijuana Act.
Bottom Line
The Court's decision highlights that "reasonable and necessary," for workers' compensation purposes is not just an injured individual's preferred method of treatment. Instead, "reasonable and necessary" looks to assess whether the treatment may "cure and relieve" the injured worker. In this case, the Court reviewed the Hager's nearly 20 years of chronic pain against all the other treatments (including surgery, physical therapy and opioid treatment). Each failed to deliver a cure or relief, but-for medical marijuana prescribed in accord with the New Jersey Compassionate Use Medical Marijuana Act. In order to meet the goals of workers' compensation laws, and the New Jersey Compassion Use Medical Marijuana Act, employer-reimbursed medical marijuana may be a "reasonable and necessary" treatment available under workers' compensation law.
For more information about the impact of medical marijuana in the workplace and the employer's obligations relating to employee use, please contact Jennifer Roselle, Esq., co-Chair of the firm's Cannabis Law Practice Group and Counsel in the firm's Labor Law Practice Group, at jroselle@genovaburns.com or 973-533-0777.
Tags: Genova Burns LLC • Jennifer Roselle • Cannabis Law • Workers Compensation • Medical Marijuana • New Jersey