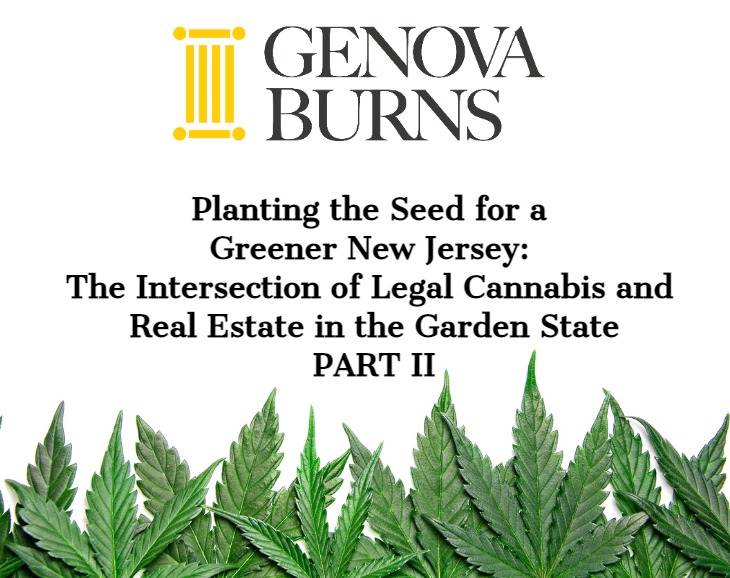 Nicholas L. DePaolo, Esq., Associate in the firm's Commercial Real Estate & Redevelopment Practice, and Daniel Pierre, Esq., Associate in the firm's Cannabis Law Practice, recently published part II of an article they co-wrote for Real Estate NJ entitled, "Planting the Seed for A Greener New Jersey: The Intersection of Legal Cannabis and Real Estate in the Garden State."
Part II of their article delves into additional considerations for licensees and property owners and begins, "The current version of the New Jersey Cannabis Regulatory, Enforcement Assistance, and Marketplace Modernization Act, which was passed by the state Legislature on December 17, 2020, provides a framework for legalizing recreational cannabis in the state, including six different classes of licenses to be considered by those looking to enter the cannabis business marketplace. As we discussed in Part I in our series on cannabis, early identification of an ideal region and/or municipality for the proposed licensed premises is critical to success. However, there are a host of other factors and potential snags that an applicant must take into consideration before selecting a location."
Mr. DePaolo and Mr. Pierre go on to discuss issues to consider as a property owner stating that "It is also worth noting that the legalization of recreational use cannabis will undoubtedly present prospective landlords in New Jersey industrial, commercial and retail markets with excellent business opportunities to engage potential long-term tenants in a coveted new industry. However, before engaging such tenants, landlords must conduct their own due diligence to carefully analyze and protect against potentials drawbacks related to title insurance, property/commercial liability insurance, financing restrictions and federal and state enforcement actions, both related to federal restrictions (i.e., the Controlled Substances Act and the Crack House Statute) and state licensure regulations imposed by the Cannabis Regulatory Commission."
To access the full article, please click here.
Tags: Genova Burns LLC • Nicholas L. DePaolo • Daniel Pierre • Cannabis Law • Real Estate NJ • Commercial Real Estate & Redevelopment • New Jersey