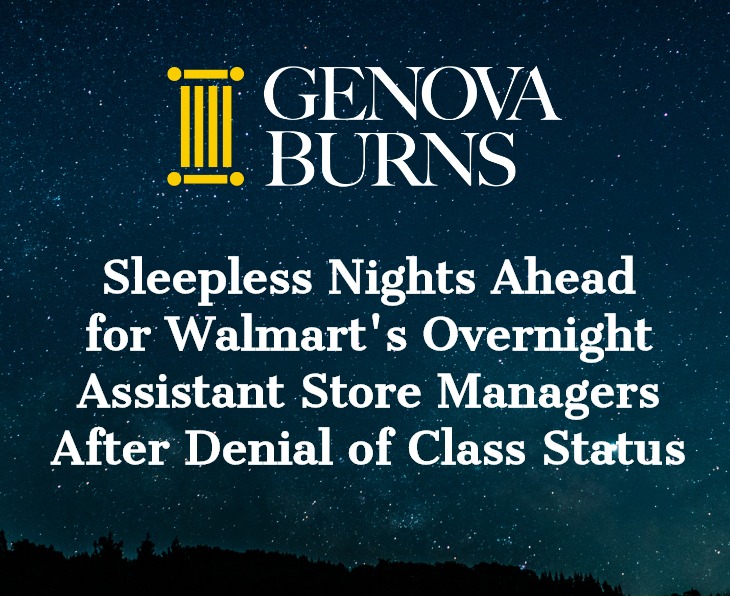 On April 24, 2020, the District Court for the District of New Jersey in Sundel Quiles, et al. v. Wal-Mart Stores, Inc., d/b/a Wal-Mart, 2:16-cv-09479 (D.N.J. April 24, 2020) recently considered a motion for class certification by a group of Overnight Assistant Store Managers (Overnight ASMs) who were allegedly misclassified as exempt executive and administrative employees. The District Court denied Plaintiffs' motion, holding that significant differences in the actual duties of the Overnight ASMs inhibited their exemption status from being determined on a class-wide basis.
Facts

Plaintiffs worked for Wal-Mart as Overnight ASMs in retail stores throughout New Jersey and New York. They filed a complaint on behalf of themselves and two putative classes under the New Jersey Wage and Hour Law (NJWHL) and the New York Labor Law (NYLL), alleging (1) that they were misclassified as exempt employees and entitled to overtime compensation under both statutes; and (2) that Wal-Mart violated a notice and record-keeping requirement under the NYLL.
The Overnight ASMs were generally scheduled to work four 12-hour shifts per week, resulting in a 48-hour work week. They were paid an annual salary and supervised, on average, 40 hourly associates per shift. However, due to understaffing and restrictions on overtime for hourly associates, the Overnight ASMs claimed that they primarily perform non-managerial duties such as replenishing inventory and stocking. According to Wal-Mart, the Overnight ASMs' roles varied significantly. While some Overnight ASMs managed hourly customer service, cashier, and accounting personnel, others managed food and specialty departments. Additionally, counter-declarations filed by Wal-Mart demonstrated that Overnight ASMs' ability to hire, fire, or promote employees varied greatly.
Following extensive discovery, Plaintiffs filed a motion for class certification on behalf of all Overnight ASMs under both the NJWHL and NYLL.
District Court's Ruling
Ruling on the motion for class certification, the Court considered whether the Plaintiffs satisfied the standard set forth under Federal Rule of Civil Procedure 23, which requires: (1) numerosity, (2) commonality, (3) typicality, and (4) adequacy of representation. Fed. R. Civ. P. 23(a). Additionally, the court considered whether the predominance and superiority requirements under Federal Rule of Civil Procedure 23(b) were met.
The Court held that the numerosity prong was met, since Wal-Mart employed potentially hundreds of Overnight ASMs in each location. The typicality prong was satisfied because the Plaintiffs and putative class members sought the same relief based on the same alleged wrongful conduct. Furthermore, the adequacy of representation prong was not disputed by Wal-Mart.
However, the Court held that the commonality and predominance requirements were not satisfied. Relying in part upon counter-declarations of Overnight ASMs submitted by Wal-Mart, the Court determined that significant differences in the actual duties of the Overnight ASMs inhibited their exemption status from being determined on a class-wide basis. Among those differences were varying degrees of Overnight ASMs' ability to hire, fire, or promote employees. Additionally, while some Overnight ASMs primarily performed manual work, other Overnight ASMs primarily supervised other employees.
Such a wide variety of job responsibilities would require the Court the conduct individualized inquiries to determine each member's exemption status. By extension, the Court held that the superiority prong was not satisfied, as the need to conduct individualized inquiries for the Overnight ASMs' job duties create significant difficulties in adjudicating the matter on a class-wide basis.
Bottom Line
Under the NJWHL and NYLL, employees working more than 40 hours per week are entitled to overtime compensation unless they are employed in a bona fide executive or administrative capacity. However, employees seeking remedies under those statutes are only permitted class certification if their job responsibilities are similar enough that a court would not be required to conduct individualized inquiries on their exemption status.
When facing putative class action lawsuits, it is critical for employers to marshal their resources, like Wal-Mart did, to ensure that the court receives the full picture. By filing counter-declarations from its employees, Wal-Mart was able to defeat a class action at the class certification stage, and save significant litigation expenses.
If you have any questions about the District Court's decision or would like to discuss best practices in complying with federal wage regulations and defending wage and hour class actions, please contact Harris S. Freier, Esq., Partner in the Employment Law & Litigation Practice Group, via email or John R. Vreeland, Esq., Partner & Chair of the Wage and Hour Compliance Practice Group here, or call 973-533-0777.
Tags: GENOVA BURNS LLC • Employment Law • James W. Sukharev • Class Action • Wage and Hour • Walmart