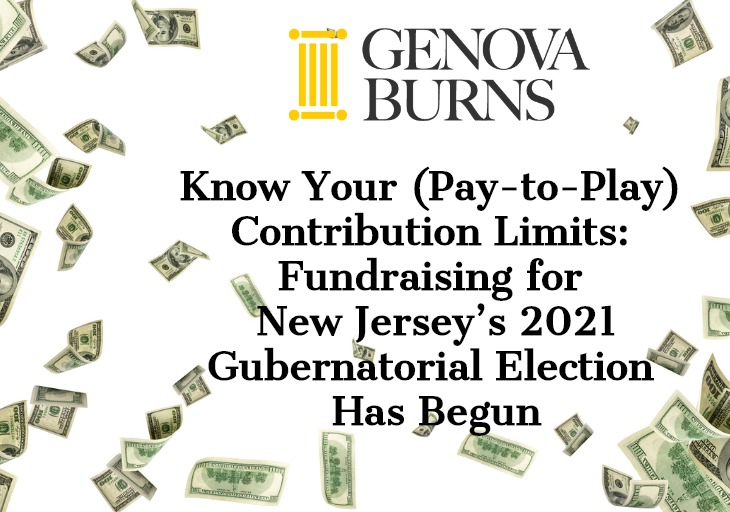 The 2020 Presidential Election is right around the corner and New Jersey's 2021 gubernatorial election is not far behind! Not only are invitations for socially-distanced and zoom events in connection with the 2020 general election hitting inboxes on a daily basis, but fundraising for the 2021 gubernatorial election has begun.

As fundraising for the 2021 gubernatorial election kicks into high-gear, those who are interested in contributing to a New Jersey gubernatorial candidate need to keep the following in mind:
The anticipated general campaign-finance limit for a contribution to a gubernatorial candidate is $4,900 per election.
The reduced pay-to-pay limit for a contribution to a gubernatorial candidate remains at $300 per election.
Any contribution made today counts toward the 2021 primary election.
A contribution greater than $300 may impact eligibility for contracts with the State of New Jersey and its Executive Branch Departments & Agencies (including State Universities) for a period ranging from 18 months through January of 2026 (depending on who wins in November of 2021).
So, before your company and its key people (including officers and their spouses), decide to participate in an event or write a check to a gubernatorial candidate, make sure you understand applicable limits to ensure that no contribution jeopardizes eligibility for state government contracting opportunities. For more information, please contact Partner and Chair of the Firm's Corporate Political Activity Law Practice Group Rebecca Moll Freed via email here, or call 973.533.0777.
Tags: Genova Burns LLC • Rebecca Moll Freed • Corporate Political Activity Law • Gubernatorial Election • Pay to Play