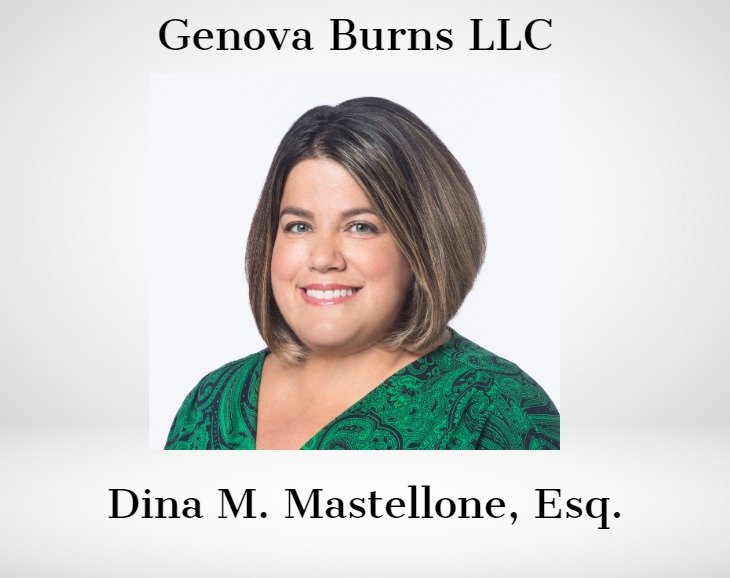 Dina M. Mastellone, Esq., Partner at Genova Burns with "a passion for advancing women in the legal industry", was interviewed by Law360 Pulse on her recent nomination as President of the New Jersey Women Lawyers Association.
Sworn in as President of the NJWLA on July 8, Ms. Mastellone is "planning on taking her 18 years of experience at Genova Burns — where she chairs the human resources counseling and compliance practice group — to help the NJWLA elevate qualified women to the highest levels of law firm, government, academic, community and corporate positions."
Leading the NJWLA as its president is "the honor of my professional career," Mastellone said as she was sworn in, according to a statement from the group announcing her presidency. She said the association is a "remarkable group of accomplished female attorneys wo mentor, support and lean on one another, a sisterhood of attorneys striving for justice, equity and inclusion in this profession."
What skills do you think you bring to the NJWLA?
My goal as a leader in this profession is to do my best to educate and mentor the next generation, to help them reach the highest levels in their careers. As lawyers, we learn the value of your voice in advocating for our clients. We learn the value of working hard, learning your place in the process and always remembering who you are representing and serving. Those attributes are what I hope to pass on to our next generation of female leaders in this profession. But there is also power in standing up and saying "no," especially as a woman. It is when you really listen to your instincts, you can clearly hear your inner voice.
My affiliation and leadership roles in NJWLA and the New Jersey State Bar Association helped me find my voice, which has helped me not only become a better advocate for my clients but also for myself and for women in this profession. I'm a better lawyer today because I surround myself with accomplished and fearless women, and I am grateful to work with organizations that empower women to use their voice for change.
To access the full article, please the attachment below.
Attachment: Dina M. Mastellone Law360 Pulse Interview
Tags: Genova Burns LLC • Dina M. Mastellone • Law360 • New Jersey Women Lawyers Association • NJWLA