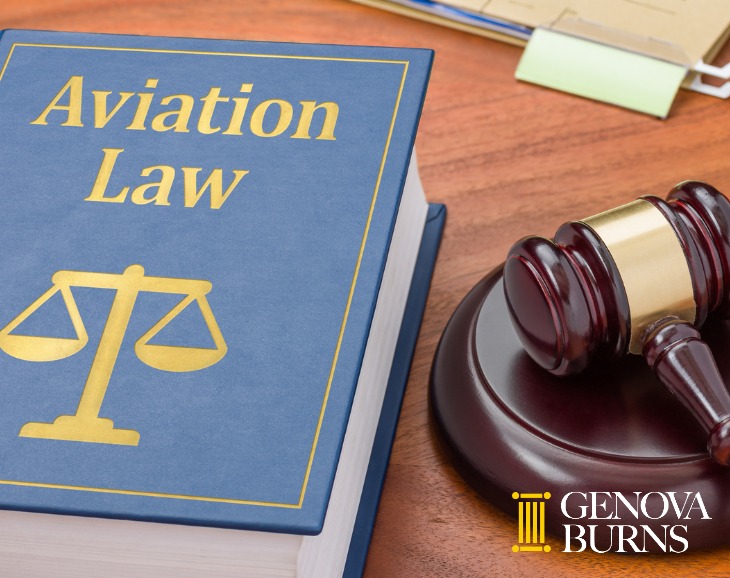 David P. Cooke, Esq., Of Counsel to Genova Burns, will participate in a webcast entitled "Around the Sky -The Latest in Aviation Law" for the New Jersey State Bar Association on September 29. This seminar has been approved by the Board on Continuing Legal Education of the Supreme Court of New Jersey for 2.4 hours of total CLE credit.
About the Program:
You may think of Aviation Law as a very distinct niche practice, but you may be surprised to learn that aspects of Aviation Law pop up in a variety of different areas of the law. Hear from a panel of Aviation Law experts on the latest information on the Aviation Law topics that intersect with your practice. Don't miss this brand new and unique presentation!
Topics to Include:
Drones and Land Use: The program will provide an overview of the ways in which municipal land use law can be used to regulate drone operations. The program will provide an overview of land use law and case law regarding the applicability and non-federal preemption of municipal land use laws governing airports and heliports and emerging case law regarding whether state and municipal laws governing drone operations are federally preempted. In doing so, the program will provide insights into how municipal land use law could be used to regulate drone operations as drones become more commonplace and commercial drone usage including drone delivery become parts of everyday business.
Illegal Charters: The safety risks for passengers on so-called charter flights that are not operated under the specific FAA regulations/requirements for air charter operators as well as the enforcement and related risks for pilots and operators of such illegal charter flights.
Impact of sick leave laws on the airline industry and pending litigation challenging these and other state employment-related laws as they apply to the airlines
The Paris Convention: Immunity from patent infringement liability concerning aircraft engaged in international travel...And more!
For more information and to register, please click here.
Tags: Genova Burns LLC • David Cooke • NJSBA • ICLE • Aviation Law • Drones • New Jersey