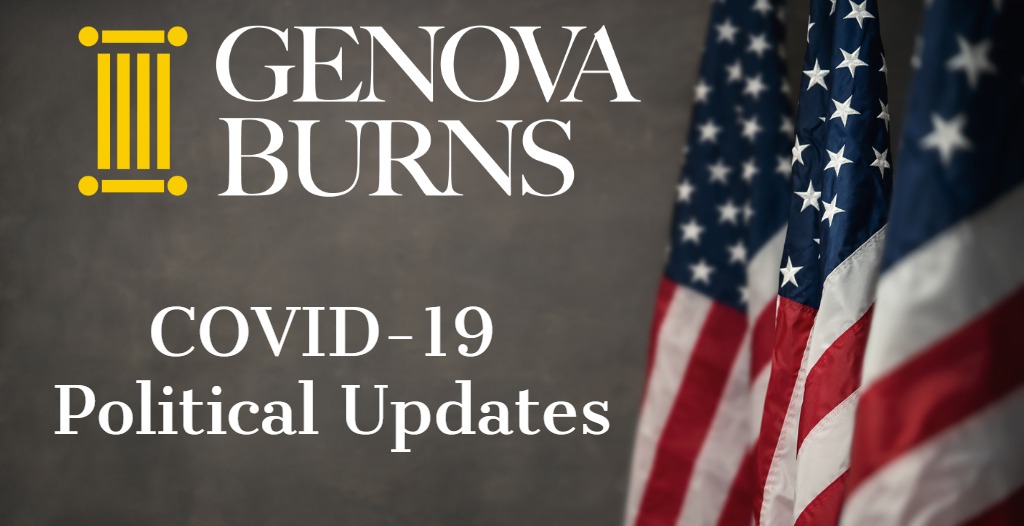 As the entire globe faces the unprecedented challenges of COVID-19, the political world is working to adjust to the new normal. Campaign ads are already focusing on COVID-19 claims, and we are also seeing in-person events being replaced with virtual conference calls, events, and rallies. But, with very few exceptions, the existing legal framework still governs political activity.

Government contractors and politically active individuals, corporations, and non-profits should keep the following in mind:
Filing deadlines are still operative.
New Jersey law requires all business entities that received payments totaling more than $50,000 in the aggregate during 2019 as a result of New Jersey government contracts or agreements to file the Form BE annual pay-to-play disclosure electronically by March 30, 2020. While the March 30 deadline was not changed, ELEC has announced a grace period for filers who were unable to file in a timely manner due to the inability to access records during office closures.
New Jersey candidates, PACs (CPCs), political parties, and other political organizations have continuing obligations to file regular reports, such as quarterly reports, pre-election reports, and 48-hour reports. For New Jersey PACs, the report for the first quarter of 2020 is due April 15. Lobbying quarterly reports must be filed by April 13, 2020. Due to Governor Murphy's Executive Order changing certain upcoming election dates (for special elections and certain school-board elections) the specific reporting schedule may have changed for political committees, but the filing obligation remains in place nevertheless. ELEC recommends that all filers use the New Jersey efiling system for filing of reports but ELEC has also established a special temporary system for uploading paper reports to avoid the mailing of reports.
As of the time of this writing, ELEC offices are still open and non-reporting functions of the Commission (such as enforcement actions and Commissioner meetings) are continuing.
For federal candidates and committees, filing deadlines remain in effect. For example, federal PACs that report on a quarterly basis have their first quarter 2020 report due on April 15, 2020. The FEC cautions that there may be a delay in processing paper campaign-finance reports, but that committees should continue to timely file reports nevertheless. Certain other functions (such as advisory opinions and enforcement actions) may experience delays to the extent that documents are mailed to the FEC offices.
Because election bodies generally do not have the statutory authority to change filing deadlines, we expect that the deadlines will remain in effect. But existing law already recognizes that certain mitigating circumstances should be taken into account if filings are not timely and complete. Our expectation is that election bodies will take these unique circumstances into account if filings are late due to circumstances beyond the control of the filer.
Campaign laws and pay-to-play laws remain in effect.
This is an especially important time for businesses to ensure compliance with pay-to-play limits. The economic recovery from the COVID-19 pandemic will likely see increased government spending and contracting. The law in New Jersey and many other states (Pennsylvania, Connecticut, Illinois, and more) involves pay-to-play restrictions that limit eligibility for government contracts based on political contributions. Business entities need to be cognizant of these limits and need to take steps to inform their individuals that even small political contributions now can jeopardize eligibility for government contracts stretching even years into the future.
Even during these trying times, campaign-finance laws remain operative. This includes campaign-finance limits, registration requirements for political organizations, paid-for lines, restrictions on contributions for non-permitted contributors, and IRS restrictions on political activity for tax-exempt organizations.
Election procedures may be subject to change.
Already, many election dates have been temporarily postponed and some voting procedures are subject to change as well. This may involve increased use or mandated use of vote-by-mail or other distance-voting procedures.
An overview of election-related legislation and Executive Orders is available here.
For Corporate Political Activity Law assistance or counsel, contact Practice Chair Rebecca Moll Freed, Esq. or Avi D. Kelin, Esq., Corporate Political Activity Specialist.
Tags: Genova Burns LLC • Avi D. Kelin • Corporate Political Activity Law • COVID-19 • Coronavirus