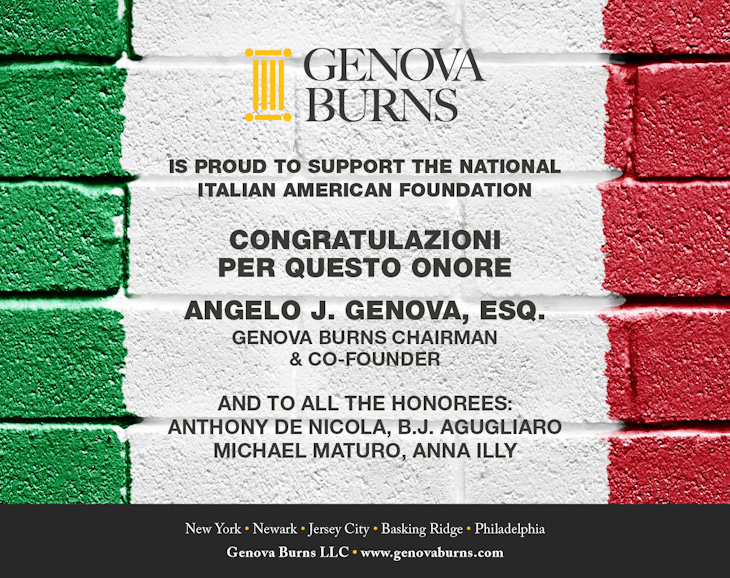 Genova Burns is proud to announce that Co-Founding Partner & Chairman Angelo J. Genova, Esq. will be honored with the Special Achievement in Law Award at the National Italian American Foundation's New York Gala on April 21st.
Mr. Genova, a first generation Italian American himself, is proud to join a long list of prominent past NIAF New York Gala honorees including Hon. Leon Panetta, Martin Scorsese, Mario Gabelli, Sophia Loren, Joe Montana, Al Pacino, Sergio Marchionne, Giorgio Armani, among other notables in business, sports, entertainment, and politics.
NIAF is the largest and most faithful representative of over 25 million Italian Americans living in the United States. The Foundation aims to ensure that Italian Americans continue to keep alive and present the rich heritage of their values and cultural traditions, and encourages the Italian American community to preserve and remember the great contribution Italians have made to the history and progress of the United States.
This year, NIAF will also honor Anthony J. de Nicola, President and Managing Partner, Welsh, Carson, Anderson & Stowe; B.J. Agugliaro, Global Client Partner, PwC; Michael Maturo, Founding Managing Partner and President of RXR Realty LLC; and Anna Illy, Chair, Ernesto Illy Foundation and Chief Ethical Officer, illycaffé.
National Italian American Foundation is also pleased to host an official delegation from the Region of Abruzzo, including Regional President Marco Marsilio in conjunction with Abruzzo's role as NIAF's 2021 Region of Honor, and feature entertainment by NIAF Celebrity Ambassador, Joe Piscopo. NIAF's New York Gala is chaired by Gerard S. LaRocca, who is a member of the NIAF Board and NIAF's Executive Vice President of National Membership. Proceeds from NIAF's New York Gala will benefit the Foundation's philanthropic and educational programs.
To learn more, please click here.
*No aspect of this advertisement has been approved by the Supreme Court of New Jersey. For specific methodology, please see The National Italian American Foundation website.
Attachment: Download
Tags: Genova Burns LLC • Angelo J. Genova • NIAF • National Italian American Foundation • New York