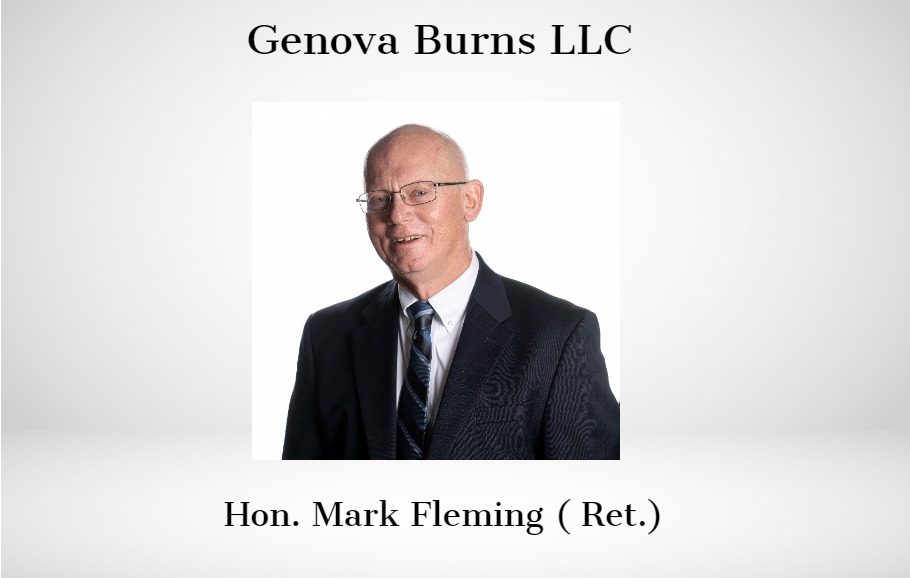 Genova Burns LLC is pleased to announce the addition as "Of Counsel" the Hon. Mark Fleming (Ret.). Judge Fleming served on New Jersey Superior Court Judge and as a Deputy Counsel to two former New Jersey Governors prior to his judicial service. These experiences will contribute over 40 years of significant litigation, government and judicial experience to the firm reinforces its already well regarded capacities in these practice areas.
Most recently, former Judge Fleming served as General Counsel to Montclair State University, New Jersey's second largest University. While there, Judge Fleming provided day-to-day legal advice to the University President, Vice-Presidents and other University leaders. He also served as member of the President's Executive Council.
Representing the University in federal and State administrative matters and investigations was a regular part of Judge Fleming's duties. He supervised all outside counsel representing the University in all legal matters and served as a liaison with the NJ Attorney General's Office. His expertise in public records issues served Montclair well as Judge Fleming was appointed custodian of records for the Open Public Records Act.
Prior to serving as University Counsel for Montclair State, Judge Fleming served as a Judge of the Superior Court from January 2006 to September 2014. He was initially assigned to the Family Part and later transferred to the Criminal Division. He was reappointed with tenure in December 2013. He was also appointed to serve on the Criminal Practice Committee.
From January 2002 to 2006, Mark served as Deputy Chief Counsel to Governors McGreevey and Codey, serving as the Governors' primary liaison with the Attorney General's Office , as Ethics officer and as OPRA Records Custodian.
Judge Fleming previously served as a Deputy Attorney General and Assistant Attorney General. While with the Attorney General's office he was responsible for the review of all Attorney General Opinions and legal advice issued by the Division of Law, and served as the Attorney General's resident expert on the Open Public Meetings Act and on public records issues. He handled major appellate and federal court cases, is counsel in more than 30 published opinions and earned the Martindale-Hubbell Preeminent AV Peer Rating, the highest rating for ethical and legal competence.
Jim Burns, Esq., Genova Burns' Managing Partner, enthusiastically welcomed Judge Fleming to the firm: "We are looking forward to tapping into Mark's deep knowledge in many practice areas and his substantial experience to complement our team to the benefit all of our clients, public and private alike."
Press coverage linked as follows:
Tags: Genova Burns LLC • Judge Mark Flemming