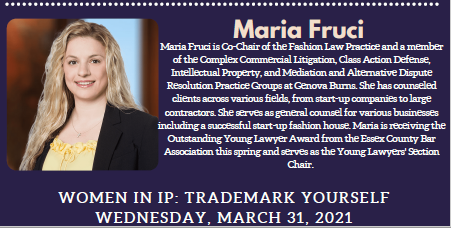 Genova Burns Counsel Maria R. Fruci, Esq. will participate as a panelist at Seton Hall University School of Law Intellectual Property Law Society's virtual event "Women in IP: Trademark Yourself".
This event will be hosted with the Women's Law Forum (WLF) on Wednesday, March 31st at 6pm to close out Women's History Month. There will be a keynote speaker followed by a networking session via breakout rooms where students will get a chance to interact with women with experience in Intellectual Property Law.
Ms. Fruci is Co-Chair of the Fashion Law Practice and Counsel in the firms' Complex Commercial Litigation, Class Action Defense, Intellectual Property, and Mediation and Alternative Dispute Resolution Practice Groups.
Ms. Fruci is dedicated to assisting her clients throughout the various events and stages in their lives. She handles a wide range of matters, successfully representing individuals, and public and private entities in complex commercial disputes, trademark protection and litigations, mediations and arbitrations from initial stages through trial and appeal. Ms. Fruci's clientele spans various fields including start-up companies, family-owned and small businesses, entrepreneurs and large contractors. Ms. Fruci serves as general outside counsel for various businesses including a successful start-up fashion house.
Tags: Genova Burns LLC • Maria R. Fruci • Women History Month • Seton Hall School of Law • Intellectual Property