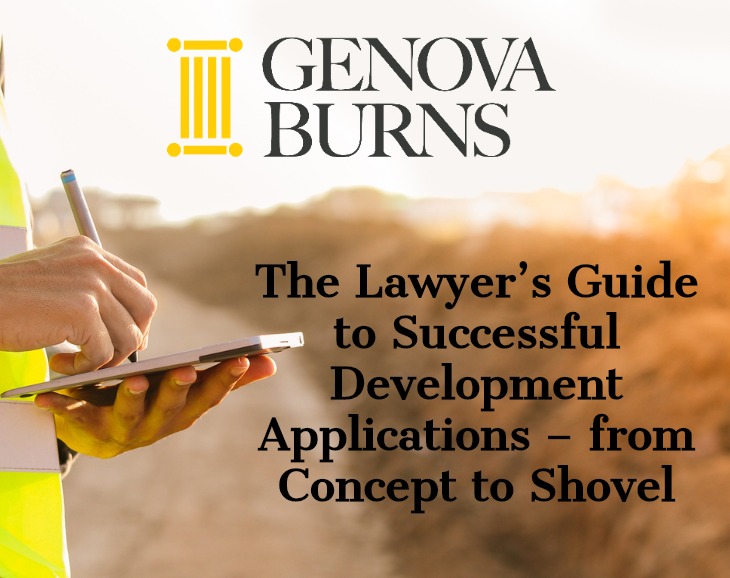 Join Partner Jennifer Mazawey, on June 11, 2020 as she moderates a panel of land use experts for a NJICLE webcast entitled "The Lawyer's Guide to Successful Development Applications - From Concept to Shovel." Ms. Mazawey and her colleagues will provide attendees a map to use to work their way through the maze and will show you why detail counts in the application process. Sponsored by NJICLE, the online webcast is approved for up to 6.7 total CLE credits.
Program Description
So, your client wants to build a mixed-use building, a state-of-the-art warehouse facility or a shopping center. Not so fast. In many cases, it's not just a simple application, filed in triplicate, and a quick hearing. Instead, it's a journey through a maze of hearings and paperwork that could take several years before your client has poured the first footing. All projects need municipal approval, but many need multiple county, state or commission permits as well, so the lawyer must consider the order and timing of all the required applications. A thumbs up from your local planning or zoning board won't do you much good if the DEP is giving the project a thumbs down. A lot is riding on the lawyer's initial preparation and ability to anticipate problems and issues that may arise with a particular site, including understanding what options are available if a project is turned down or denied a permit.
For more information or to register for the webcast, please click here.
Tags: Genova Burns LLC • Jennifer Mazawey • NJICLE • NJSBA • Land Use