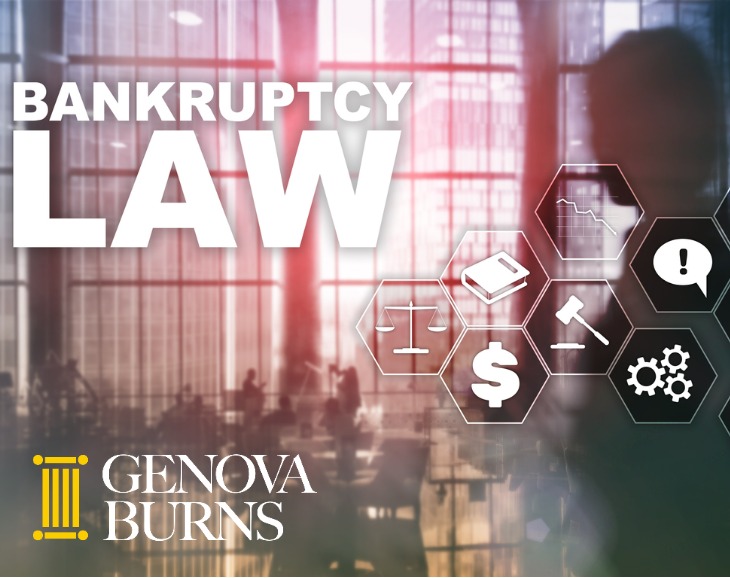 Genova Burns LLC Bankruptcy Reorganization and Creditor's Rights Practice Group has been picking up steam since its addition in early 2021. The Firm added 2 Partners, 2 Counsel and one of-Counsel, as well as shifting certain firm attorneys to devote time to the bankruptcy practice. In connection with the addition of the bankruptcy group, GB opened an office in Basking Ridge, New Jersey.
Led by Partner Daniel Stolz, Esq., the Chair of its Bankruptcy and Reorganization practice, Genova Burns was recently retained as local counsel to the Official Talc Claimants Committee in the Chapter 11 case of LTL Management LLC. The Committee represents the interests of over 38,000 individuals allegedly suffering from cancer as a result of the use of Johnson's Baby Powder and related products. The LTL Case is likely the largest bankruptcy case ever in the State of New Jersey. The case was moved from North Carolina to New Jersey and assigned to Chief Bankruptcy Judge Michael Kaplan, sitting in Trenton. Firm Counsel Scott S. Rever, Esq. is also currently serving as one of the 10 Subchapter V Bankruptcy Trustees in the State of New Jersey.
"It is our firm's honor to be working with skilled and prestigious lawyers from across the Country to protect the interests of the innocent victims in this case, who wish to have their day in Court, before a jury of their peers," said Mr. Stolz.
In addition to its work on LTL, the Bankruptcy Group recently obtained confirmation of a Plan of Reorganization for Sito Mobile Solutions and its public affiliate. Under the Plan creditors are entitled to payments in excess of $20 Million.
The group also recently obtained approval of the sale of a quarry owned by its debtor client through the bankruptcy court for the sum of $7.8 Million. The bankruptcy group, in conjunction with our insurance group, headed by William Megna, continues to represent Affiliated Physicians and Employers Master Trust in its ongoing Chapter 11 Case.
Counsel Don Clarke, Esq. will start 2022 by being sworn in on the Board of Directors for The Turnaround Management Association. The official swearing in will occur at the January 27th meeting. The Turnaround Management Association (TMA) is a global non-profit organization comprised of turnaround and corporate renewal professionals with more than 10,000 members in 54 chapters worldwide, including 34 in North America. TMA's mission is to serve as a forum for corporate renewal professionals from all disciplines to promote high standards of practice, foster professional development, and enhance the image of TMA members.
"I am humbled to have been elected," said Don Clarke, Esq. He continued, "I have long admired the NJ TMA for its informative and topical educational programming, and its many entertaining and well-attended networking events. I look forward to helping to continue those traditions, and would like to congratulate my fellow newly-elected board members."
Adding additional firepower to Genova Burns arsenal is Gary N. Marks, Esq. He joins the Firm as "Of Counsel" with more than 40 years of experience. Mr. Marks has extensive experience in representing debtors, creditors and trustees in significant bankruptcy cases in New Jersey. As business or personal financial affairs spiral downward into insolvency, Mr. Marks works with clients to devise the right strategy for each unique situation. He is accomplished in working with creditors trying to preserve a claim or reclaim collateral. "Mr. Marks is a seasoned bankruptcy lawyer, whose additional will assist with the growing Genova Burns bankruptcy practice," says Angelo J. Genova, Esq., Chairman & Managing Partner of Genova Burns LLC.
Genova Burns is proud of its reputation for the ability to offer a range of unsurpassed legal services in many practices areas and industries. It is truly a full-service firm on the cutting edge of market trends and opportunities with burgeoning practices like real estate incentives and cannabis as well as extensive experience in labor law, transportation and logistics law, and all aspects of corporate law, among others. The key differentiator is the Firm's ability to operate as a large firm; however, remain nimble enough to serve clients with an unrivaled personal approach and a "we can get it done" culture for which it is recognized.
Tags: Genova Burns LLC • Bankruptcy, Reorganization & Creditors Rights • Daniel M. Stolz • Donald Clarke • Angelo J. Genova