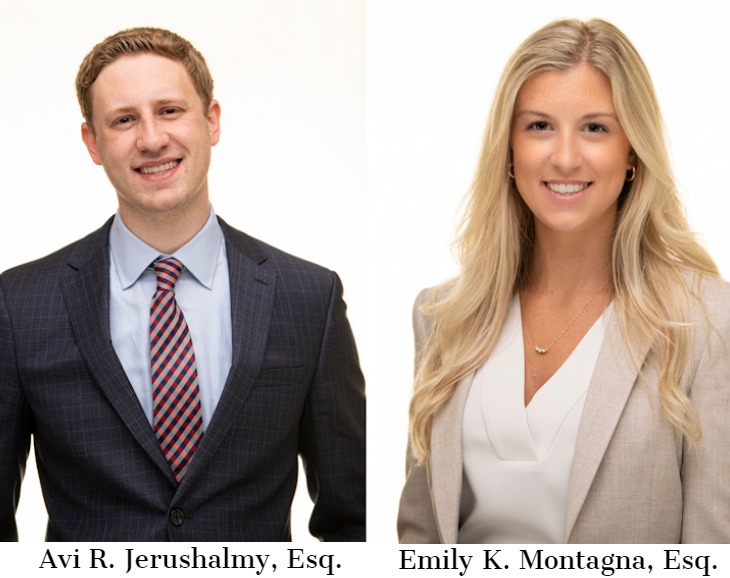 Genova Burns is pleased to welcome the Firm's newest associates, Avi R. Jerushalmy, Esq. and Emily K. Montagna, Esq.
"We are thrilled to have Avi and Emily as part of our team and are confident they will be a great addition for the long-term growth and development of our firm. We have made a commitment to adding lawyers to meet the demands of our growing practice and the needs of our clients in order to maintain the exceptional and timely legal services that our clients demand and expect." said Angelo J. Genova, Esq., Chairman & Managing Partner of Genova Burns LLC.
Avi R. Jerushalmy, Esq. will join as an Associate in the firm's Employment Law & Litigation Practice Group. Prior to joining the Firm, Mr. Jerushalmy worked at a personal injury firm, doing legal research and handling pleadings, discovery and case management as well as assisting partners with trial preparation. He also worked as a 2019 summer associate at a New Jersey firm where he was exposed to various practice areas, including employment, labor, and commercial litigation as well as trusts and estates and corporate law.
Mr. Jerushalmy received his Juris Doctor degree from Rutgers Law School in Newark and his Bachelor of Arts degree, summa cum laude, from Binghamton University. While in college, Mr. Jerushalmy successfully created and developed start-ups in the college nightlife and fantasy football industries. He was also a football writer at Bleacher Report. Mr. Jerushalmy was an Associate Editor and IT Editor on the Rutgers Law Record and was the President of the Jewish Law Student Association at Rutgers Law School.
Emily K. Montagna, Esq. will practice as a member of the firm's Real Estate Practice Group. Prior to joining Genova Burns, Ms. Montagna served as a judicial law clerk for the Honorable Linda Lordi Cavanaugh, J.S.C. in the Superior Court of New Jersey - Essex Vicinage, Family Division. She received her Juris Doctor from Seton Hall University School of Law. While in law school, she was an Associate Editor of the Seton Hall Circuit Review as well as a member of the Civil Litigation and Practice Clinic. She was the Vice President of both the Environmental Law Society and the Seton Hall Sports Club, and also a member of Seton Hall Law's Mentorship Program. Ms. Montagna received her Bachelor of Arts from The College of New Jersey and served as Class President during her junior and senior years.
To read about this annoucement in Real Estate NJ, click here. For more about noteworthy developments at the firm, please click here.
Tags: Genova Burns LLC • Avi R. Jerushalmy • Emily K. Montagna