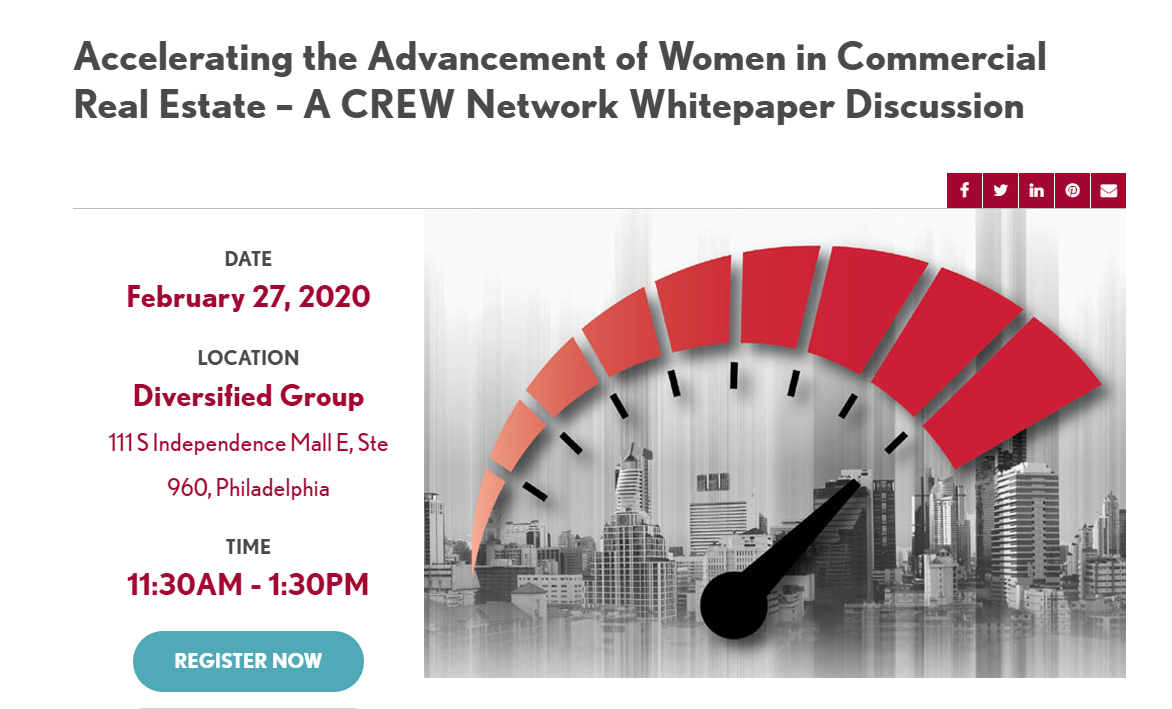 Join CREW Philadelphia as they delve into CREW Network's most recent whitepaper "Accelerating the Advancement of Women in Commercial Real Estate", with guest speaker and contributor, Jennifer Mazawey, Esq., Partner at Genova Burns LLC on February 27th. CREW's vision for the future is an industry that reflects the vast diversity of the clients and markets they serve. To achieve greater diversity in the industry, companies must make gender equity, diversity, and inclusion a business priority among their leadership ranks.
For more information and to register, please click here.
An action guide for companies to advance women in three critical career areas
CREW Network's latest industry research white paper, Accelerating the Advancement of Women in Commercial Real Estate, examines three areas where women continue to be underrepresented in the industry—the talent pipeline; senior executive leadership; and at the corporate board level—and presents an action guide to advance women in each of these critical career areas. The publication also identifies the unique barriers women of color face in advancing, and strategies to ensure all women have equal access to opportunities, pay, and recognition.
ABOUT THE ATTORNEY
Jennifer Mazawey is a Partner in the Firm's Commercial Real Estate & Redevelopment, Environmental Law, and Land Use & Approvals Practice Groups as well as the Construction & Engineering, Education, Land Development and Real Estate Industry Groups. She represents developers in all aspects of projects, regularly appearing before planning boards and zoning boards of adjustment. Ms. Mazawey assists clients with permit acquisitions from agencies such as the Department of Environmental Protection and Department of Transportation.
Tags: CREW • Jennifer Mazawey • Commercial Real Estate