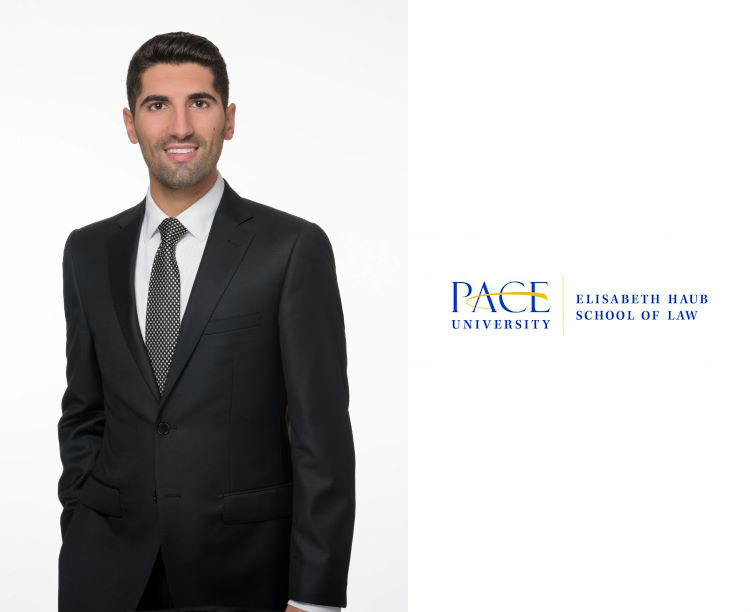 New associate Christopher Zamlout is set to return to his alma matter, Pace Law School for their Open House event on November 2, 2019. Join Mr. Zamlout as he guides prospective law students through his personal experience at Pace and beyond. We asked Mr. Zamlout to highlight some advice he would give potential law students.
Q: What advice did people give you before starting law school?

A: Prior to starting law school, I was told to put my head down and focus on my studies; that I wasn't there for friends or a social life, but for a degree. While true, I was there for my degree, law school offers so much more than just assignments and finals. Now, having gone through school, I would advise that students try and get as immersed as possible in the entire law school experience. Join clubs, write on for a law review, try out for moot and trial teams – take as much onto your plate as possible. Of course, good grades are the priority, but being involved and doing well on finals are not mutually exclusive. It's tempting to just go to class and go home, but students who do that will be missing out on a lot. Employers also look for these extracurriculars!

Q: What classes were the most interesting for you and why?

A: While in school, students will always find certain classes more interesting than others; it may be because of the subject matter or the professor. When you find a class you enjoy, don't be afraid to raise your hand and meet with the professor. I loved contracts – I was one of very few who did – but the subject matter just made sense to me. My professor was quirky, extremely intelligent, and loved to challenge her students. She wouldn't just hand you the answer to your question, she'd make you work for it. I think, in the end, it really ended up being for everyone's benefit, although they loved to complain about it. But I ended up enjoying it so much that I became a Dean's Scholar, which is a student who supplements the professor's lectures once a week with their own and goes over the materials, comes up with hypotheticals, and answers the questions that students are to embarrassed to ask the professor. It was one of the most fun things I got to do as a student, because I made connections with the underclassmen, got to continue learning about a subject I found interesting, and could make up entertaining hypotheticals. If I wasn't so involved in class, I don't think my professor would have chosen me for her Dean Scholar. The moral of the story – its okay to nerd out over a class or two, just don't ignore the rest.

Q: What advice would you give newly graduated attorneys about finding a job?

A: When it comes to entering the profession, my advice is to be a sponge; take everything in. I have been so fortunate to work with brilliant attorneys who have really taken the time to sit and explain things to me. I've tried to absorb as much as I can and mold everything I learn into my own person and my own attorney. I've tried to take the words "I know" out of my vocabulary entirely, which is mostly just a product of me actually not having a clue. But, I'm coming to realize that that's okay, your role as a junior lawyer is to learn from your seniors, and grow as a person and as an attorney. And, of course, to bill!
Q: What is something they don't teach you in school that you would tell new attorneys?
A: In my opinion, the most important thing a young attorney can do is be outgoing. Engage with your classmates, meet with your professors, and go to events and actually talk to people (instead of standing in a corner). By taking this initiative, you can meet long-time friends, future adversaries, and open the door to opportunities down the road. I credit a large portion of where I am today to others in the field that have helped, guided, and pointed me in the right direction.
Interested in Attending Pace University's Elisabeth Haub School of Law? Join Christopher at their Admissions Event here.
About Christopher Zamlout, Esq.

Mr. Zamlout is an Associate in the Newark, New Jersey Office, specializing in Complex Commercial Litigation. He clerked for the Honorable David B. Katz, P.J.F.P., of the Superior Court of New Jersey, Essex County Vicinage where he gained experience conducting research and preparing trial memoranda and opinions for judicial review. Mr. Zamlout also assisted with case management, scheduling motion calendar, and other procedural responsibilities as well as participated in training in Mediation and Dispute Resolution, and court interfaces. Mr. Zamlout served as a judicial intern for the Hon. Madeline E. Cox-Arleo, United States District Court, D.N.J and then as judicial honors extern for the Hon. Nelson S. Roman, United States District Court, S.D.N.Y.
Before joining the Firm, Mr. Zamlout served as a summer associate where he participated in matters regarding insurance defense, corporate governance, and employment litigation and conducted research and drafted legal memoranda on various issues including breach of fiduciary duty, landlord retaliation, and hostile work-place claims. Questions for Mr. Zamlout? Ask here.
Event Location:
Tags: GENOVA BURNS LLC • Associates • Pace University • Admissions • Law School