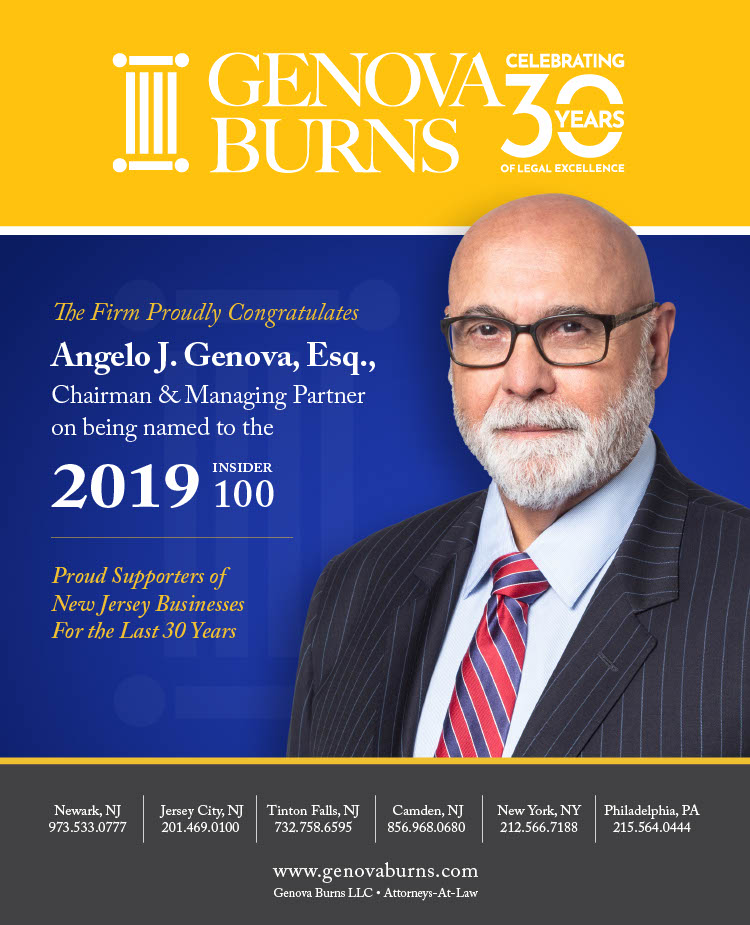 Angelo J. Genova, Co-founder, Chairman and Managing Partner has been named to Insider NJ's Insider 100: Power Publication. Each year, Insider Power compiles a list of the 100 most powerful people in New Jersey Politics, both in elected positions and behind the scenes. This year, Mr. Genova comes in at #32 as the "Beat Election Law Expert in the State".
About the Publication
This 2019 Insider Power list blends both worlds: the players behind the castle walls and those trying to get inside, trying to give voice or expression to some political will at present underconsidered, or to some injustice unresolved.
This year, the publication focused considerable attention on legislative races, where establishment Democrats sought to build on an Assembly supermajority by carrying anti-Donald J. Trump attitudes from the 2018 federal election year into districtwide wins in newfound territory. But there were several deeper things happening on the ground as campaigns collided. The party in the majority faced the challenge from the beginning of trying to hold onto seats in the 1st Legislative district, which Trump won, a dynamic at odds with other districts where they hoped to galvanize anti-Trump sentiments with anti-Trump candidates and perhaps establish wider frontiers to mitigate a southern loss – or get lucky and win everywhere. They had the obvious challenge of a sitting governor in their own party whose messaging – and more – clashed with their own…
About the firm:
For 30 years, Genova Burns has partnered with companies, businesses, trade associations, and government entities, from around the globe, on matters in New Jersey and the greater northeast corridor between New York City and Washington, D.C. We provide an array of exceptional legal services across multiple practice areas with the quality expected of big law, but absent the big law economics.
We distinguish ourselves with unparalleled client responsiveness. We embrace technology in the interest of being thorough and cost competitive, while ensuring the same access to and deployment of legal research, but with the objective of offering out of the box problem solving advice and pragmatic solutions.
External Link: Download the list here.
Tags: Angelo J. Genova • GENOVA BURNS LLC • Election Law • Top 100 • Awards