Eugene T. Paolino is a Partner in the Firm's Jersey City, NJ office and a member of the Land Use & Approvals, Commercial Real Estate & Redevelopment, Corporate Law & Business Transactions, and Complex Commercial Litigation Practice Groups as well as the Land Development, Education and Real Estate Industry Groups. A Jersey City native, Mr. Paolino has practiced law in New Jersey for more than four decades. He brings deep knowledge, experience and practical skills to his clients' real estate development, tax abatement, commercial, zoning, land use and redevelopment law matters. In addition, he has significant experience with municipal, county and state developer incentives as well as education and corporate law, with litigation experience in all these areas.
During his career, Mr. Paolino has worked on numerous projects, large and small, in Jersey City and throughout the State of New Jersey. He brings a broad spectrum of experience and expertise to the representation of each of his clients. Mr. Paolino has played a critical role in obtaining governmental approvals and financing for some of the most iconic and significant real estate projects along New Jersey's Hudson River "Gold Coast" and in Jersey City, including:
77 Hudson Street
101 Hudson Street
The Beacon (formerly Jersey City Medical Center)
Saint Peter's MacMahon Student Center
Saint Peter's Tower McGinley Square (proposed)
One Journal Square
The Rise at 711 Montgomery
Crescent Park in the Grand Jersey Redevelopment Area
30 Journal Square
65 Bay Street
Mr. Paolino serves as General Counsel to Saint Peter's University. He was Assistant Corporation Counsel to the City of Jersey City and Special Environmental Counsel to the City of Hoboken. In addition to his robust commercial real estate law and development practice, Mr. Paolino has significant litigation experience, having argued complex contract disputes and corporate claims at every level in the trial and appellate courts.
For a description of the selection process methodology for each of the publications and organizations which have included Genova Burns LLC in their rankings or awards, please click here.
Also of Interest
January 19, 2021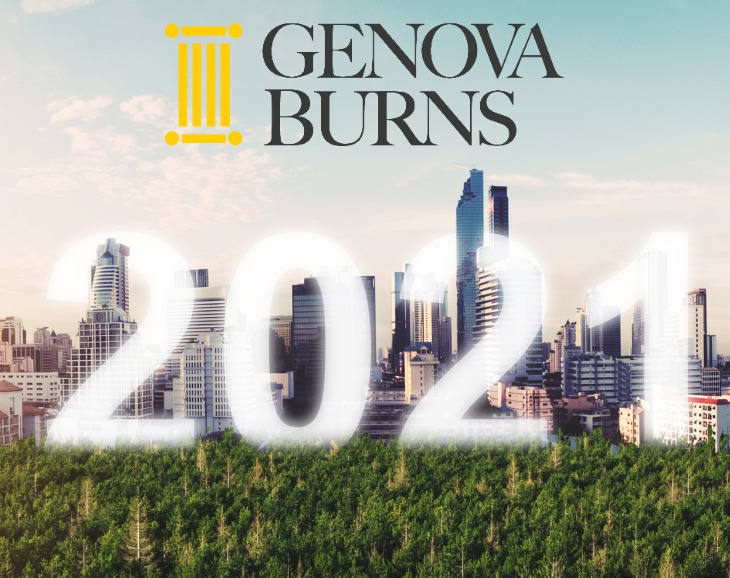 Eugene Paolino Featured in Real Estate NJ's 2021 Market Forecast